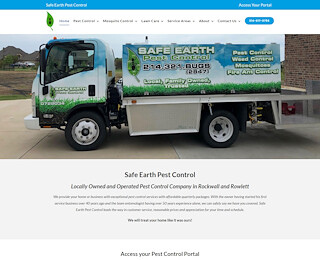 Ants aren't just a problem at picnics; they may also make their way into your home. Ant infestations are serious and require help from a professional ant exterminator in Forney. Ants are a common problem here in the Forney area. Most people have an ongoing problem with ants because they are so prevalent.
Ant Control
Ants live in colonies and each colony may contain hundreds of thousands of members. There are different kinds of ants and each can do specific types of damage. Carpenter ants are typically the most serious because they can cause structural damage to your home. They feast on wood and once they find a source they can be incredibly difficult to get rid of. Other types of ants include house ants that are usually located in your kitchen and fire ants that cause pain if they sting you.
The first step is to contact a qualified ant exterminator in Forney. The exterminator will evaluate the situation and try to pinpoint the problem. The ant colony needs to be located so that it can be eradicated. It is essential to determine exactly where the ants are entering the home and where they are located inside the home.
Ant Exterminator in Forney
In order to properly remove the ants and keep them from returning an ant exterminator in Forney needs to address all areas including the location of the main colony, the entry points into the home and the locations where ants are inside the home. The type of treatment that is necessary depends on many factors including the type of ant and the degree of infestation.
Treatments might include both internal and external extermination. Internal extermination starts with an inspection to determine exactly where the ants are penetrating the home. All of the potential openings need to be treated such as areas around the plumbing and sinks. Since ants can enter through extremely tiny spaces, all of these areas must be treated. Interior extermination utilizes safe products that are derived from chrysanthemums. Additionally, ant traps might be placed in strategic locations.
External treatment by an ant exterminator in Forney includes the areas of entry and the entire perimeter of the home. Also, the driveway needs to be treated as well as any sidewalk cracks. Bushes and plants that are near the home also must be treated because they could harbor or attract ants. Once everything is treated you will immediately begin to see an elimination of ants in your home. Retreating is necessary because ant colonies can thrive even in very harsh conditions. Continued care will ensure that you no longer have an ant infestation in or around your home.
Homeowners and residents may have tried to handle ant problems on their own in the past. Unfortunately, the problem is often much more complex than simple sprays and traps can handle. You need a professional to take care of the problem by locating the areas of concern and treating them adequately. If you suffer from ants in your home you need help from Safe Earth Pest Control. Contact us today or visit our website at SafeEarthPestControl.com.  
Ant Exterminator Forney
Related Posts
At the point when your home in Texas is swarmed with vermin, for example, cockroaches, bedbugs, ants and others, you have the alternative to dispose of them by yourself, or enlist an exterminator to take every necessary step for you. It is good to remember that disposing of the bugs is not a simple procedure, so employing an exterminator in Forney is the best alternative. Notwithstanding that you bring about a few expenses by working with an exterminator, the advantages you get exceed the expenses, and provide safe and effective long term results. For over the last fifty years, the professional specialists at Safe Earth Pest Control have been providing our valued clients with safe and effective pest control.
At Safe Earth Pest Control, we are considered the number one rated exterminator in Forney, and throughout the entire area of the state. We offer money saving coupons, along with special promotions throughout the year. One of our knowledgeable professionals will gladly provide you with a no cost pest inspection and a free estimate that never consists of hidden charges or undisclosed fees. Feel free to view our 5-star ratings and reviews, and see what our satisfied clients have to say about our unique and impressive services. Affordability is always on our minds, and we intend to provide you with quality services at a price that you can feel good about.
Customarily, cockroaches were controlled because they are offensive, leave behind a terrible odor, and cause gastrointestinal and respiratory sickness. Nonetheless, research demonstrates that cockroach debris, such as old shells, salivation, body parts, and droppings, triggers asthma attacks in individuals who are sensitized to cockroach antigen, which are proteins found in the debris. In homes where several allergens are present, including dust mites, mold, fuzzy pets, tobacco smoke, and certain chemicals, youngsters may encounter extreme and continuous asthma attacks from high airborne concentrations of these allergens.
Termites cause over $5 billion of damage to property in the U.S. every year, as indicated by the National Pest Management Association. What's more, damage by termites is commonly not covered by homeowner's insurance. Termite control is not for amateurs. An expert can enable you to distinguish the species you are battling and utilize a successful control to secure your home. Fortunately, devices for termite control have improved and become more safe throughout the years. So in the event that you discover termites in your house, there's no good reason to not call a termite specialist.
If you would like some additional information regarding how a professional and experienced exterminator in Forney can eliminate your pest issues, Safe Earth Pest Control would like to invite you to visit our web site. At safeearthpestcontrol.com, you can learn more about all of the ways that we can make your home safer and more comfortable to reside in. On our home page, you can leave your contact information, for a fast response. You can also simply call us at 214.321.2847, and speak with one of our friendly and informed team members.
Are you searching for an affordable ant exterminator in Rockwall? Be sure to call around and talk to an expert before you schedule an extermination in your home or business. Not all pest control companies are using safe treatments these days. In the case that you have small children or pets in your home, you'll want to work with a company that uses a treatment that will be effective and safe.

If you suspect or have been told that you have a Rover ant problem in your home or commercial building, you may be dealing with the infestation problem along with the issue of trying to figure out how to control a newly emerging pest in the state of Texas. This can be a difficult situation to handle, and one that is best left to an ant exterminator in Rockwall.

It can be extremely to self-ID Rover ants, and for obvious reasons. You'll have to count the segments of their antennae to get a positive identification, although there are a few other not-so-positive ways that you can determine whether you probably have a problem. One of the biggest ID-ing factors is that Rover ants have enormous eyes, however, there are other species of ants that do as well. The best way to get a probably ID is to look for a combination of the following features:

- Very large eyes
- Long and erect hairs on the mesosoma
- Pale yellow to medium to dark brown in color
- Sparse, appressed hairs on the abdominal tergites
- Size only about 2.5mm long
- Uneven thorax with the front portion appearing as a hump

Homeowners who find Rover ants nesting in outdoor areas like loose bark at the bast of a tree trunk, leaf litter, soil or around dead wood have cause for alarm, as Rover ants are difficult to control once they make an entrance onto your premises. Thankfully, Rover ants do not bite or sting, making them more of a nuisance than anything else, still they do have to be exterminated from your location.

Rover ants will readily invade a home or other building to forage and construct their nests in the void of walls, so it is essential that you call an ant exterminator in Rockwall if you even suspect that you have Rover ants being problematic. Colonies are usually fairly small when gotten to in time, so feel free to call Safe Earth Pest Control at 214-321-BUGS at the first sign of them.

Eliminating sources of moisture and fungal activity in your backyard is key in preventing them from making their home in your back yard. After you have noted a problem with them, it's not too late to take measures to ensure that they are no longer comfortable living on your property. An ant exterminator from Safe Earth in Rockwall can get rid of them permanently when you schedule an extermination and sign up for annual maintenance to keep them at bay.
Safe Earth Pest Control
214-321-2847
3042 Longhorn Lane Rockwall, TX 75087
View Larger Map