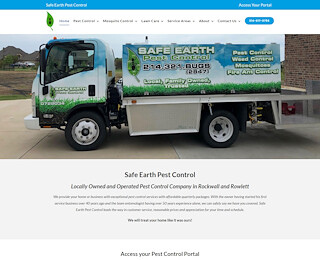 Pests are a common occurrence here in Texas. Most homes and businesses have some type of pests from time to time. The most frequent types of bugs that plague our premises include ants, termites, spiders, roaches and mosquitoes. These pests invade your dwelling and can become not only annoying but also damaging. You need to get help from a professional bug exterminator in Forney to permanently rid your home or business of pests.
Residential Extermination Plans
At Safe Earth Pest Control we offer a selection of residential extermination plans. Our most popular, the silver plan, includes quarterly seasonal treatments that will keep your home protected year-round. You will receive an initial pest treatment and 5 subsequent treatments along with inspections, perimeter sprays, eave sprays and a fire ant treatment.
The gold plan includes bi-monthly treatments and the platinum plan includes 12 treatments, one per month, along with a free mosquito treatment. These treatment plans will help keep your premises free from pests on a regular basis. The best solution depends on the type and severity of the infestation. We are a highly experienced bug exterminator in Forney with more than 50 years of experience.
Results with a Bug Exterminator in Forney
Only professional treatment can adequately rid your premises of pests. The best solution includes several options. Bugs need to be eradicated where they live as well as where they enter the premises and again where they present themselves in your home. For instance, your home's perimeter needs to be treated along with the points of entry and the places where you see them in your kitchen, bathroom or other areas of your home.
The first treatment is usually the most important because it initially gets rid of the pests that are living in the home. However, another treatment, usually about a month later, is necessary to keep new bugs from coming in. These treatments should then be followed by regular care to prevent any pests from returning.
Eliminate Pest Problems for Good
Different types of pests have different living and mating habits. Only a skilled bug exterminator in Forney will identify the exact type of bug that is infesting your home so that the treatment will work. The life-cycle of the pest will indicate the treatment method and schedule that will rid your home of the bugs. With regular treatment your home will continue to be pest free.
Safe Earth Pest Control has more than 50 years of experience ridding homes and businesses of pests in the Forney area. We handle all types of bug infestations. Our skilled experts will visit your home and find the source of the infestation so it can be resolved. We understand bugs and know all about them so we can more easily get rid of them. We know what works and what doesn't work and will utilize only the safest and most reliable methods for making your home or business pest free. Contact Safe Earth Pest Control to learn more about our treatment options.
Bug Exterminator Forney
Related Posts
Tips For Hiring the Right Bug Exterminator in Rowlett:
Hiring Tip #1: Avoid a pest control company that has not established a reputation within your community. Procure a personal referral, if possible, from a friend or family member who has required the services of an exterminator in the past. Effective pest control requires experience, knowledge, and skill- three things that only come with time spent in the field. If you want to get rid of bugs and ensure they won't be coming back, it's essential that you perform due diligence prior to calling around for an estimate. A personal referral is the best way to locate a reputable bug exterminator in Rowlett. Safe Earth Pest Control is locally owned and operated with strong roots in the Rowlett community. Give us a call to discuss your pest problem.
Hiring Tip #2: Steer clear of pest control agencies that try to make you feel like you're on trial or are obligated to show them proof of an infestation. After all, it's the job of your bug exterminator to provide the proof. Hire a technician who shows an eagerness to come out and get to the bottom of the pest problem. We hear a lot of horror stories from clients who tell us their previous bug exterminator expected them to do half of the work for them, by collecting droppings or charting out areas of their home where they suspected pests were active. You want to hire a professional who will come in and take control of the situation, quickly and efficiently. At Safe Earth Pest Control, we have the equipment, experience, and know-how to handle the situation from start to finish.
Hiring Tip #3: Make sure the methods used by your bug exterminator in Rowlett are 100% safe for pets, children, guests, customers, and clients. Monthly spraying of harmful chemicals can take a toll on the health of anyone living in or visiting a building that is being treated. At Safe Earth Pest Control, our name says it all. Our commitment to providing safe methods of pest control is evidenced in the first two words in our name; you can rest easy knowing that our technicians are dedicated to providing safe and effective pest control at the most affordable prices in the region.
As leaders in pest control, we are considered local experts in the extermination industry, with effective treatment methods that will keep your home or business pest-free 12 months of the year. For interior applications, we use safe, synthetic bug sprays that are derived from the chrysanthemum plant and are not harmful to your family. We also utilize glue boards and residual dust in areas that are out of the way. Our experts offer specialized and emergency pest control to eradicate fire ants, bed bugs, termites, cockroaches, mosquitoes, fleas, rodents, ticks, and numerous other harmful pests. If you want the best bug exterminator in Rowlett, give us a call at 214-321-BUGS.
At the first sign of fleas in your home, call in a professional flea exterminator from Rowlett Safe Earth Pest Control. You may be surprised to learn that if you see a single flea in your home, it's a sign that you have at least a hundred more in various developmental stages. Even after you think you've gotten the problem in hand, 6 months later, more fleas can emerge from their cocoons.

Fleas are extremely difficult to get rid of once they have found their way into your home, especially homes that have pets living inside or outside of them. One of the main reasons why eradication is so difficult lies in the fact that developing fleas can actually determine when the best time is to emerge from their cocoons, and while that is typically about a week, they can delay their emergence for months if the ideal circumstances don't present themselves.

Another reason is that fleas can live deep inside of carpet fabrics, making them difficult to get to. Flea eggs can drop off of your pets and onto your carpet where they can become imbedded so deeply that only constant vacuuming can get the problem under control- which is exactly what you should be doing every day if you notice a flea problem. While you are doing your part at home, call in a professional flea exterminator in Rowlett from Safe Earth Pest Control.

If you're attempting to keep your flea population under control by vacuuming, make sure you discard the bag immediately after each session. Take your pets to see a vet and have them professionally treated for fleas. This will go a long way toward helping your exterminator get your problem under control. As well, sign up for on-going maintenance in your home once you have eradicated the fleas, so that you won't have to deal with the same problem again in the future.

Many homeowners consider fleas to be an itchy nuisance, but fail to understand the health issues that come with a flea infestation, especially in a home with small children. Fleas not only pose a problem as a nuisance, they also transmit tapeworms and diseases that you would probably be quite surprised to learn about, including the bubonic plague, Lyme disease, typhus and Rocky Mountain fever, all very dangerous diseases.



Safe Earth Pest Control has been serving the Rowlett community for a long time, assessing, treating and monitoring pest issues in homes and commercial buildings for clients who need fast relief from infestations. Whether you happen to be having a problem with fleas, bed bugs, termites, rodents, cockroaches or other pests, there is no one better to call.

Stop picking fleas off of your beloved pets- call the flea exterminator in Rowlett at 214-321-BUGS and let their experts handle the job promptly, professionally and affordably. Fleas are a problem only for as long as you allow them to be. Safe Earth Pest Control can help solve your flea problem- call today.
Safe Earth Pest Control
214-321-2847
3042 Longhorn Lane Rockwall, TX 75087
View Larger Map