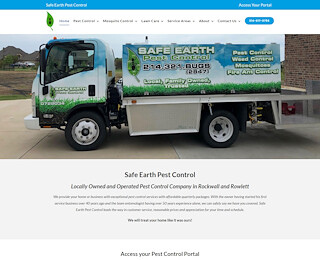 Pests are a common occurrence here in Texas. Most homes and businesses have some type of pests from time to time. The most frequent types of bugs that plague our premises include ants, termites, spiders, roaches and mosquitoes. These pests invade your dwelling and can become not only annoying but also damaging. You need to get help from a professional bug exterminator in Forney to permanently rid your home or business of pests.
Residential Extermination Plans
At Safe Earth Pest Control we offer a selection of residential extermination plans. Our most popular, the silver plan, includes quarterly seasonal treatments that will keep your home protected year-round. You will receive an initial pest treatment and 5 subsequent treatments along with inspections, perimeter sprays, eave sprays and a fire ant treatment.
The gold plan includes bi-monthly treatments and the platinum plan includes 12 treatments, one per month, along with a free mosquito treatment. These treatment plans will help keep your premises free from pests on a regular basis. The best solution depends on the type and severity of the infestation. We are a highly experienced bug exterminator in Forney with more than 50 years of experience.
Results with a Bug Exterminator in Forney
Only professional treatment can adequately rid your premises of pests. The best solution includes several options. Bugs need to be eradicated where they live as well as where they enter the premises and again where they present themselves in your home. For instance, your home's perimeter needs to be treated along with the points of entry and the places where you see them in your kitchen, bathroom or other areas of your home.
The first treatment is usually the most important because it initially gets rid of the pests that are living in the home. However, another treatment, usually about a month later, is necessary to keep new bugs from coming in. These treatments should then be followed by regular care to prevent any pests from returning.
Eliminate Pest Problems for Good
Different types of pests have different living and mating habits. Only a skilled bug exterminator in Forney will identify the exact type of bug that is infesting your home so that the treatment will work. The life-cycle of the pest will indicate the treatment method and schedule that will rid your home of the bugs. With regular treatment your home will continue to be pest free.
Safe Earth Pest Control has more than 50 years of experience ridding homes and businesses of pests in the Forney area. We handle all types of bug infestations. Our skilled experts will visit your home and find the source of the infestation so it can be resolved. We understand bugs and know all about them so we can more easily get rid of them. We know what works and what doesn't work and will utilize only the safest and most reliable methods for making your home or business pest free. Contact Safe Earth Pest Control to learn more about our treatment options.
Bug Exterminator Forney
Safe Earth Pest Control
214-321-2847
3042 Longhorn Lane Rockwall, TX 75087
View Larger Map