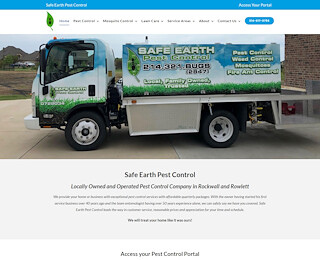 Nobody wants to live with pests. When you have any type of bugs in your home you need help from a professional bug exterminator in Rockwall. An exterminator has the expertise and knowledge to properly eradicate the infestation quickly and efficiently. There are a variety of pests that could plague your home or business including ants, roaches, spiders, fleas, mosquitoes and termites among others.
Professional Bug Exterminator in Rockwall
It can be difficult if not impossible to rid your premises of pests without help from a professional bug exterminator in Rockwall. Typical over the counter products don't work very well and can be dangerous as well. Unless you locate the origin of the entry you will not be able to contain the damage for any period of time. The best solution is to choose a company that has the experience and expertise to handle pest control.
The first step in the process is to evaluate the premises to determine the location of the pests in the home and the points of access into the dwelling. Once these locations are determined a treatment plan can be provided. Treatment generally includes both interior and exterior pest control. An initial cleanout treatment can be completed which will be followed by a regular schedule of ongoing care.
Getting Rid of Pests in Your Home
Interior treatment handles the areas where the pests are entering the home as well as where they are located while inside. Safe and environmentally friendly treatments are available that are safe for use in your home. Generally, when you see several pests it is likely that there are hundreds or even thousands more located in areas that you cannot easily see. This means that just treating the ones that you see won't permanently fix the problem.
An experienced bug exterminator in Rockwall will first examine the property to determine the extent of the problem as well as where the points of entry are located. In some cases, emergency treatment may be necessary. This can be helpful if you suddenly noticed that there is a pest problem. Once the initial problem is under control ongoing treatments at regular intervals can be scheduled to ensure that the pests do not return.
At Safe Earth Pest Control we use a variety of safe and earth-friendly products to effectively remove pests from your residential or commercial premises. We have more than 50 years of experience getting rid of unwanted pests in Rockwall and nearby communities. We offer a variety of treatment plans including one-time treatments as well as ongoing plans where we visit your premises quarterly, bi-monthly or monthly.
Our experienced exterminators are able to evaluate and diagnose your bug problem so we can properly resolve it as quickly as possible. You will soon be pest-free and with regular treatments you will no longer need to worry about these types of pests returning to your home. Contact Safe Earth Pest Control or visit our website to learn more about the best bug exterminator in Rockwall.
Bug Exterminator Rockwall
Safe Earth Pest Control
214-321-2847
3042 Longhorn Lane Rockwall, TX 75087
View Larger Map