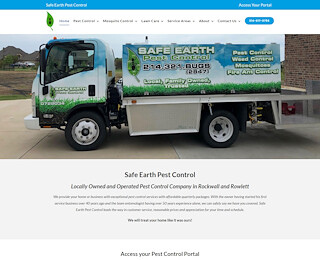 Tips For Hiring the Right Bug Exterminator in Rowlett:
Hiring Tip #1: Avoid a pest control company that has not established a reputation within your community. Procure a personal referral, if possible, from a friend or family member who has required the services of an exterminator in the past. Effective pest control requires experience, knowledge, and skill- three things that only come with time spent in the field. If you want to get rid of bugs and ensure they won't be coming back, it's essential that you perform due diligence prior to calling around for an estimate. A personal referral is the best way to locate a reputable bug exterminator in Rowlett. Safe Earth Pest Control is locally owned and operated with strong roots in the Rowlett community. Give us a call to discuss your pest problem.
Hiring Tip #2: Steer clear of pest control agencies that try to make you feel like you're on trial or are obligated to show them proof of an infestation. After all, it's the job of your bug exterminator to provide the proof. Hire a technician who shows an eagerness to come out and get to the bottom of the pest problem. We hear a lot of horror stories from clients who tell us their previous bug exterminator expected them to do half of the work for them, by collecting droppings or charting out areas of their home where they suspected pests were active. You want to hire a professional who will come in and take control of the situation, quickly and efficiently. At Safe Earth Pest Control, we have the equipment, experience, and know-how to handle the situation from start to finish.
Hiring Tip #3: Make sure the methods used by your bug exterminator in Rowlett are 100% safe for pets, children, guests, customers, and clients. Monthly spraying of harmful chemicals can take a toll on the health of anyone living in or visiting a building that is being treated. At Safe Earth Pest Control, our name says it all. Our commitment to providing safe methods of pest control is evidenced in the first two words in our name; you can rest easy knowing that our technicians are dedicated to providing safe and effective pest control at the most affordable prices in the region.
As leaders in pest control, we are considered local experts in the extermination industry, with effective treatment methods that will keep your home or business pest-free 12 months of the year. For interior applications, we use safe, synthetic bug sprays that are derived from the chrysanthemum plant and are not harmful to your family. We also utilize glue boards and residual dust in areas that are out of the way. Our experts offer specialized and emergency pest control to eradicate fire ants, bed bugs, termites, cockroaches, mosquitoes, fleas, rodents, ticks, and numerous other harmful pests. If you want the best bug exterminator in Rowlett, give us a call at 214-321-BUGS.
Bug Exterminator Rowlett
Safe Earth Pest Control
214-321-2847
3042 Longhorn Lane Rockwall, TX 75087
View Larger Map