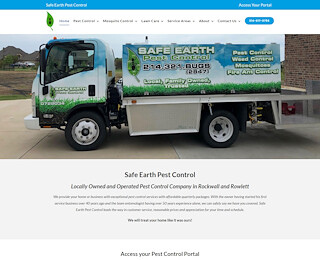 For professional and effective cockroach control in Rockwall, call Safe Earth Pest Control today at 214-321-BUGS. Cockroach control starts in your own home or commercial building, eliminating sources of food and water that cockroaches scavenge on, but requires professional assistance to eradicate them at the source.

If your kitchen has become home to cockroaches, chances are you have tried many over-the-counter products that claimed they would do the job. The problem is, that few actually do the job very well. 'Kill on contact' products only kill roaches that can be immediately seen but do nothing at all to address the real issue- the eggs that have already been laid behind appliances and cabinet spaces. Once those eggs hatch, you'll be right back where you started.

While there are several species of cockroach that infest Texas homes and businesses, the two most common are the German cockroach and the American cockroach. German cockroaches are the smaller and more aggressively invasive species- the ones you generally find crawling across your kitchen countertops when you turn on the light in the middle of the night. Getting rid of them is no picnic, as you probably have found out already.

For effective cockroach control, call Rockwall Safe Earth Pest Control and let the professionals handle the job. Their experts are well-versed in remediation of cockroaches and once they are eradicated from your premises, you'll be given the opportunity to sign up for ongoing maintenance that will ensure they never come back.

Cockroaches spread diseases wherever they go, so it's essential that if you've spotted them in your home, high-rise building, restaurant or other commercial building, you take action right away and call in an expert for cockroach control in Rockwall.

It is a breach of food safety laws to serve food or beverages after cockroaches have been found to exist on your premises since they can have a negative impact on the health of your employees and your customers. Cockroaches have been linked to the spread of a host of food borne diseases that include salmonellosis, typhoid fever, cholera, gastroenteritis, dysentery, leprosy, plague, listeriosis, giardia and many others. They are also suspected to spread E coli, Staphylococcus aureus and Streptococcus, along with being a trigger for asthma and other allergies.

Cockroaches can spread disease by their droppings, vomit and by direct contact, since they can be found living in sewers, drains and garbage bins where they come into direct contact with a variety of bacteria and viruses. Cockroaches pick up pathogens on the spines of their legs and therefore, anything they rub against or walk on is easily contaminated.

Make sure you call for prompt cockroach control from Rockwall Safe Earth Pest Control to keep a small cockroach problem from quickly getting out of hand. Call 214-321-BUGS and let their professional technicians take care of your cockroaches so you can get back to life as usual. Once eradicated from your location, you can schedule on-going treatments to ensure they never come back.
Cockroach Control Rockwall
Safe Earth Pest Control
214-321-2847
3042 Longhorn Lane Rockwall, TX 75087
View Larger Map