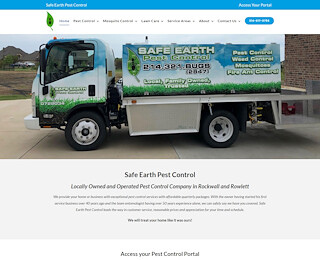 Are you experiencing a problem with fleas in your home? Whether you've just noticed the very first one or have been dealing with them for some time now, it's essential that you call a professional flea exterminator in Rockwall to handle the problem.

Fleas can quickly get out of hand and before you know it, you have a full-blown issue on your hands that requires you to pay the expenses of a hotel room while your home is being exterminated. Before your problem gets to that point, call Safe Earth Pest Control at 214-321-BUGS. They'll quickly get the problem under control so you can get back to life as usual.

Just exactly why is it so hard to get rid of fleas once they've made their way into your home? The answer is multi-fold:

Fleas have a very long life cycle as compared with other insects. To complicate this, females can lay their eggs on pets that are highly mobile around your home and property. Eggs laid on your dog or cat can hatch anywhere your pet routinely comes into contact with. They can fall off on your carpets, on your furniture or out on your lawn.

Once scattered around, flea eggs will start hatching after about a week. They can even delay hatching until the ideal conditions are met. After hatching, the larvae spin cocoons in which they develop into the pupae, which typically takes about a week, but can be delayed by as much as 6 months if the perfect conditions are not experienced.

Even after a homeowner is convinced they have their flea problem tackled, months later, pupae can begin developing inside of the cocoons, making it essential that you call in a flea exterminator from Rockwall Safe Earth Pest Control the moment you see the first flea.

Only a single flea will be visible for every 100 fleas in your home. Since fleas infest your home while in various stages of growth, it is essential that you treat carpets, pet beds and furniture tat is in your home as well as your lawn and backyard areas. While you do your part to keep their numbers down, call Safe Earth Pest Control at 214-321-BUGS and let them do their part as well. It's almost impossible to eradicate fleas from a home without the professional assistance of a flea exterminator in Rockwall.

If you think fleas are just an itchy nuisance- think again. Fleas bite, and can transmit diseases to pets and humans, such as bubonic plague, typhuys, Lyme disease and Rocky Mountain spotted fever.

Call an expert from Safe Earth Pest Control today and rest easy knowing they'll have the problem in hand in no time. Remember that a very small flea problem can quickly escalate to the point where you may have to seek refuge outside of your home, bringing pets and other family members with you while a flea exterminator eradicates your Rockwall home of the pests.

Take action before things get out of hand. Call Safe Earth Pest Control today at 214-321-BUGS.
Exterminator Rockwall
Related Posts
Nobody wants to live with pests. When you have any type of bugs in your home you need help from a professional bug exterminator in Rockwall. An exterminator has the expertise and knowledge to properly eradicate the infestation quickly and efficiently. There are a variety of pests that could plague your home or business including ants, roaches, spiders, fleas, mosquitoes and termites among others.
Professional Bug Exterminator in Rockwall
It can be difficult if not impossible to rid your premises of pests without help from a professional bug exterminator in Rockwall. Typical over the counter products don't work very well and can be dangerous as well. Unless you locate the origin of the entry you will not be able to contain the damage for any period of time. The best solution is to choose a company that has the experience and expertise to handle pest control.
The first step in the process is to evaluate the premises to determine the location of the pests in the home and the points of access into the dwelling. Once these locations are determined a treatment plan can be provided. Treatment generally includes both interior and exterior pest control. An initial cleanout treatment can be completed which will be followed by a regular schedule of ongoing care.
Getting Rid of Pests in Your Home
Interior treatment handles the areas where the pests are entering the home as well as where they are located while inside. Safe and environmentally friendly treatments are available that are safe for use in your home. Generally, when you see several pests it is likely that there are hundreds or even thousands more located in areas that you cannot easily see. This means that just treating the ones that you see won't permanently fix the problem.
An experienced bug exterminator in Rockwall will first examine the property to determine the extent of the problem as well as where the points of entry are located. In some cases, emergency treatment may be necessary. This can be helpful if you suddenly noticed that there is a pest problem. Once the initial problem is under control ongoing treatments at regular intervals can be scheduled to ensure that the pests do not return.
At Safe Earth Pest Control we use a variety of safe and earth-friendly products to effectively remove pests from your residential or commercial premises. We have more than 50 years of experience getting rid of unwanted pests in Rockwall and nearby communities. We offer a variety of treatment plans including one-time treatments as well as ongoing plans where we visit your premises quarterly, bi-monthly or monthly.
Our experienced exterminators are able to evaluate and diagnose your bug problem so we can properly resolve it as quickly as possible. You will soon be pest-free and with regular treatments you will no longer need to worry about these types of pests returning to your home. Contact Safe Earth Pest Control or visit our website to learn more about the best bug exterminator in Rockwall.
Safe Earth Pest Control serves Rockwall and the surrounding areas with affordable and effective pest eradication for both residential and commercial customers with pest problems. If you're currently dealing with a pest problem, no matter how big or small, call Safe Earth Pest Control at 214-321-BUGS and let the pros handle it.

Commercial buildings with a rodent problem know they have to get the problem in hand immediately or risk paying fines and possibly even getting closed down. Texas is home to several types of rodents that include the common house mouse, the roof rat and the Norway rat. Regardless of what type of rodent you suspect is inhabiting your building, at the first sign of droppings or of rodent activity, call in the experts from Safe Earth Pest Control to your Rockwall location.

It surprises many Rockwall Texas residents when they learn that rats and mice can squeeze through a space that is as small as one-quarter inch- and once they find an entrance into your building, they can make their way around inside of it very easily. Be sure you seal all entry points to your building as well as eliminate food and water sources that can invite them in, and cause them to stay. Once sealed, anything already living inside of the building will be trapped. For inside work, Safe Earth Pest Control prefers snap traps to poison for a variety of reasons.

Rockwall homeowners who discover that they have rodent activity going on in their home can be horrified with the thought of those tiny feet and long tail scurrying around after hours, getting into food supplies and spoiling their living area. Whether you've seen a mouse scurrying across your floorboards or have noticed some nesting in closet corners, the most practical thing you can do is to call Safe Earth Pest Control to come to your Rockwall home. They'll take care of the problem in no time.

Cockroaches are another reason for diligence in keeping a small problem from turning into an infestation. Cockroaches breed like- well, just like cockroaches- and before long, one or two of them can quickly turn into a countertop crawling with them when you turn on the kitchen light at night and startle them.

Rodents and cockroaches carry germs and diseases and must be quickly taken care of, whether they are infesting a home or a business. Safe Earth Pest Control is committed to Rockwall residents and business owners, with safe treatments that can be used around children and pets. Call 214-321-BUGS for your free inspection today and let the experts have a look at what's going on inside of your building.

Whatever the pest problem you are facing, from rodents and cockroaches to fire ants in your backyard or termites eating your home, you can count on the professionals from Safe Earth Pest Control of Rockwall, TX. Once pests have been eradicated, you schedule a maintenance plan that will keep them from ever coming back!
Safe Earth Pest Control
214-321-2847
3042 Longhorn Lane Rockwall, TX 75087
View Larger Map