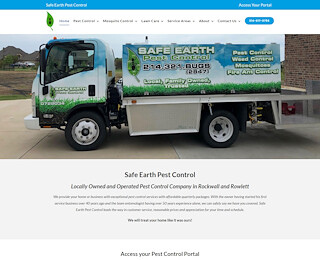 A person's lawn can say a lot about them. Those with a well-kept yard obviously care about their home and its appearance. A sloppy yard that is left to grow shaggy and tall can bring down the curb appeal of your home. To have your yard looking its best, you need to rely on professional lawn care. There is no better place to rely on than Safe Earth Pest Control. When it comes to lawn care and maintenance, Safe Earth Pest Control has the best services in the Rockwall area. We proudly serve Rockwall and the surrounding communities. Our attention to detail and dedication to customer service is what makes our company stand out in the crowd of our competition.
Lawn Care Services in Rockwall, TX
Brown grass can make your entire yard look messy. Weeds can do the same thing. Getting rid of weeds is not easy. It seems like as soon as you get rid of a few, another dozen pop up. At Safe Earth Pest Control, we can help make brown grass and weeds a thing of the past. We provide a maintenance schedule that will last for a whole year. Our typical schedule involves fertilizer in the spring to promote growth as well as weed control and pre-emergent treatment. The pre-emergent treatment will promote healthy growth throughout the rest of the year. Don't be afraid to get in touch with our staff to learn more detailed information about our yearly schedule. Through every season of the year, our team at Safe Earth Pest Control have got your back.
Treatments Administered every Six to Eight Weeks
Our care program features include our team of technicians showing up every six weeks to check in on your yard and see if it needs anything at all. Depending on the weather, clients can expect six to eight treatments a year that will keep their lawn looking better than ever. We can keep your yard safe from insects and disease. Your grass will never look better than with our lawn care services in Rockwall, TX. Our team will go the extra mile to ensure that your yard looks its best. During the summer, we provide fertilizer as well as spot weed control. We provide spot weed control so that we do not damage your grass.
Say Goodbye to Insects
Insects can make being outside miserable. With Safe Planet Pest Control, we can get rid of insects, like mosquitos and ants, so that you can enjoy being in the outdoors. Bug bites can get infected and cause serious discomfort. Our team of technicians can help you get rid of insects in your yard so that you don't have to worry about your children or loved ones getting covered in bug bites. Your dog will thank you because our treatments kill fleas as well. Reach out to our team today so that we can guide you through our treatment process. We are ready to serve your lawn care needs. We look forward to hearing from you.
Our Team at Safe Earth Pest Control Loves Lawn Care!
Give Us a Call!