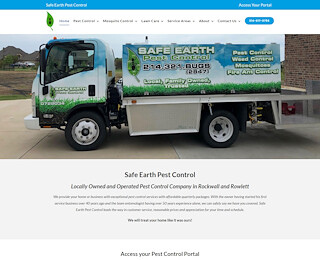 With summer in full swing, lawn maintenance is an important service to keep in mind. It can be easy to forget how much care your yard needs during the colder months, but it will likely require quite a bit of maintenance when the weather warms up. For those looking for lawn maintenance in Rockwall, Safe Earth Pest Control is available. They offer lawn care treatment, weed control, and insect and disease control. While lawn maintenance is typically done in the summer, Safe Earth Pest Control also offers services in the fall and spring. While they don't tend to have any in the winter, they are able to come out if needed.
Why Is Lawn Maintenance Important?
There are many reasons to keep your lawn well maintained and no matter what the reason, you can reach out to Safe Earth Pest Control to help you out. One reason, especially if you live in a neighborhood, is that it contributes to the overall beauty of the community. However, there are a number of other reasons to consider it as well.
It Keeps Your Yard Healthy and Beautiful
The proper lawn care can turn your yard into an incredibly beautiful landscape. Lawn care done by Safe Earth Pest Control provides everything that is necessary for your yard to remain as healthy as possible. This includes getting rid of weeds, providing fertilizer, and taking precautions against any bugs or diseases that may show up. In the springtime, they provide a pre-emergent treatment in addition to fertilizer and weed removal to help with the upcoming summer months. In the summer, the weed treatments are just spot treatments, as anything else could cause the grass to get burned. When it comes to the fall, the treatments are the same as in the spring. Typically, nothing is done in the winter, but services can be arranged if your lawn needs it.
Weed, Insect, and Disease Control
A big part of lawn maintenance is keeping weeds, insects, and diseases controlled and at bay. The most common types of weeds are grassy and broadleaf weeds. Safe Earth Pest Control is able to fight these off with pre-emergent treatment and post-emergent treatments. Spot treatments can be done during the summer to take care of weeds without worrying about burning any grass. The most common insects that Safe Earth Pest Control can get rid of are fire ants, grubs, and Chinch bugs. These bugs are known for feeding on grass and plants, so they can be quite destructive. Safe Earth will come out and check your Rockwall lawn for any of these insects and then recommend the proper treatment plan. There are a few lawn diseases that Safe Earth can treat, and they include Brown Patch, Saint Augustine Decline, and Take-All Patch. You can get a free consultation to check for any of these diseases, even if you aren't sure that they are there or not. After the free treatment, Safe Earth Pest Control will be able to give you an outline for a possible treatment plan.