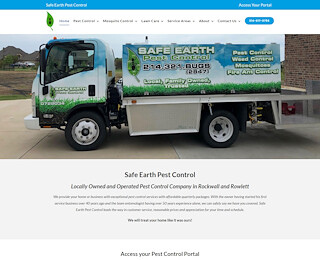 Your home is your castle and you should be able to enjoy it without having to deal with troublesome pests. Bugs and rodents can be inside or outside your home and may be difficult to eradicate on your own. You need to call a professional pest control service to give you peace of mind and to keep your home free from unwanted inhabitants.
What is Pest Control?
Pest control is the removal and prevention of unwanted bugs, rodents or other creatures. Your home needs to be a safe haven where you and your family are protected from pests. An exterminator is a professional who takes care of the removal of pests inside and outside your home. Pests can make their homes under, near and inside your home. When they do they will provide an annoyance and in some cases can be dangerous.
What Are the Most Common Pests?
The most common pests in our area include mice, rats, termites, ants, cockroaches, fleas and spiders. In addition, mosquitoes are an annoying outdoor pest. Pests are not just bothersome but they can also pose health risks to humans and pets. Inside the home, mice, rats and bugs can inhabit our kitchen cabinets and leave dangerous droppings in our food sources. The best way to rid your home of these nuisances is with a professional exterminator.  
How Often Do You Need to Exterminate?
Extermination generally requires several or more treatments and ongoing vigilance. Our silver level offers quarterly seasonal treatments with 5 general pest inspections and treatments, 5 perimeter sprays, 5 eave sprays and a fire ant treatment. The gold level includes bi-monthly treatments for pests. It includes 7 treatments and sprays and 2 fire ant treatments. The platinum plan includes monthly pest treatments with 12 inspections and treatments and 4 fire ant treatments.
What Products Are Used to Exterminate Pests?
At Safe Earth Pest Control we use high quality effective products that are safe for your family and pets. We know how important your health is and we don't want to harm your family in the removal of pests. We take care to ensure that your home is free from pests with the use of the best products and techniques that are known to resolve the problem. Our product of choice for indoor control of pests is a synthetic chemical that is derived from the chrysanthemum plant. Different products are utilized outdoors. You can rest assured that our methods are safe and effective.
How Do I Prepare for Pest Control?
Indoor control of pests requires us to spray at the edges of cabinets and sometimes behind the appliances and under the sink. You should make sure that we have access to these areas and that your foods are stored properly and away from where we will spray. Outdoors, provide access to the areas around the perimeter of the home and yard as well as the driveway. Our team will provide you with any further specific instructions that are necessary based on your particular type of pest removal services.
Related Posts
Call Safe Earth Pest Control in Rowlett for high quality pest eradication at an affordable price. If you're dealing with an infestation of any kind, including rodents, cockroaches, fire ants and house ants, termites or other insects or pests, make the call to the experts at 214-321-BUGS.

Local residents and business owners depend on Safe Earth Pest Control in Rowlett because of their experience, expertise, service, attention to detail, flexibility and appreciation of local business. As locally owned and operated business with exceptional rates, Safe Earth Pest Control assures Rowlett residents that they will treat your home just as if it were their own.

Call for a free inspection of your home or business and let the experts get to the bottom of your problem. If you have a cockroach issue, it's best to call in the pros at the very first sign of cockroach activity. Being omnivores, cockroaches love to scavenge kitchens and areas like the pantry where they may find and feed on crumbs, package glue or other tidbits. Since they also require water to live, they thrive in a kitchen or bathroom area where there may be leaking or pooling water.

There are multiple types of cockroaches in Texas, the most common being the German and the American cockroach. German cockroaches are a highly invasive species that are very difficult to get rid of once they make their home in your building.

German cockroaches are small roaches, adults being about a half inch long, with color that ranges from yellow-brown to brown with two black stripes that run the length of their thoracic shield. They're the most common cockroach in the US. German roaches require professional test control in your Rowlett home, office building or business since if you happen to catch a glimpse of one, you most likely have a few hundred of them that haven't been spotted yet.

American cockroaches, or Palmetto Bugs, are the latest of the home-infesting roaches, with adults being an inch and a half to two inches in size. American roaches differ from German roaches in that they possess fully formed and functioning wings with which they are able to fly, unlike German roaches which can glide at best.

Common in Texas, American Cockroaches are generally only seen singly, walking across a wall or across a carpet, however, when there is one, there is always the chance that more will come or are already there.

Safe Earth Pest Control in Rowlett can manage your cockroach problem in the safest way possible, with treatments that are not only safe around your children and pets, they are also very effective in dealing with infestations of cockroaches.

Regardless of what type of pest issue you are dealing with, Safe Earth Pest Control is able to take control and eradicate pests from your home, and set up a maintenance program so they don't come back. Call 214-321-BUGS to schedule a free inspection of your home or business and rest easy knowing the professionals are on the job.
Calling around to pest control companies in Rowlett can be exhausting. It's not easy to find a pest service that uses safe treatments for homes with children and pets, at affordable prices that fit within your budget. Safe Earth Pest Control has answered that problem for the community, with safe and affordable treatments that are every bit as effective as traditional chemicals.

Safe Earth Pest Control can asses, treat and monitor your home or business at one of the best prices you'll find anywhere. Their technicians are licensed in the state of Texas as commercial techs and certified applicators, so you can rest easy knowing that you've called in the experts for your pest problem. With an on-staff Entomologist with more than 50 years of experience and a vast knowledge of pest control, Safe Earth is able to meet your needs.

Residential pest control doesn't have to be complicated. Just call the leader in pest control companies in Rowlett at 214-321-BUGS for problems in your home concerning ants, bed bugs, termites, cockroaches, mosquitos, rodents, fleas, ticks, earwigs, silverfish or any other pests that are a problem in your home.

Commercial pest control for high rise buildings, offices, warehouses, shopping centers, restaurants or other commercial buildings is always just a phone call away at 214-321-BUGS. Not all pest control companies in Rowlett are able to meet the needs of commercial businesses, however Safe Earth Pest Control specialists in meeting the needs of a variety of types of companies.

Nothing will get your business closed down faster than an infestation of rodents, cockroaches or other pests that cannot be maintained. If a small pest issue has gotten out of hand before you knew what happened, call a technician from Safe Earth and they'll arrive quickly and get the problem in hand before your clients and customers are in the know.

Once the pest problem has been handled, you'll have the opportunity to sign up for a monthly or bi-monthly maintenance plan that will ensure that pests don't invade your location again.

When it comes to treatments that are safe to be used around children, pets, elderly or patients, Safe Earth Pest Control offers the most effective, gentle treatments you can obtain. If you should have a rodent problem in your commercial building or in your home, it's essential that you do everything possible to seal up entry points into the building and eliminate all possible sources of food and water. Once the building has been sealed, any pests living inside of the building will be trapped and easily eradicated.

Other pest control companies in Rowlett may not have your health in mind- but Safe Earth Pest Control does. That's why they use the most effective, safest treatments available to rid your home or building of pests.

You can find more information on the website when you visit SafeEarthPestControl.com or by calling one of the pest experts at 214-321-BUGS. Get rid of pests now- once and for all.
Safe Earth Pest Control
214-321-2847
3042 Longhorn Lane Rockwall, TX 75087
View Larger Map