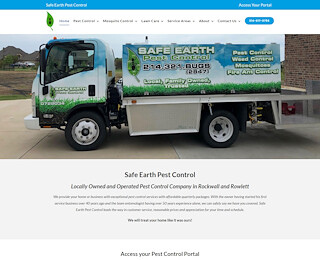 Maintaining an attractive and healthy-looking lawn can be tough at times with your busy schedule. It requires effective pest control, fertilization treatments, etc. Leave all the complex work to us with our weed control, pest control, and fertilization programs. Contact Safe Earth Pest Control if you are looking for professional lawn maintenance companies in Rockwall, TX.
The lawn care services we provide
We provide lawn maintenance services for different seasons. In the spring, we do lawn fertilizer, weed control, and pre-emergent treatments. During summer, we do spot weed control and lawn fertilizing. Then again, in the fall, we do the same treatments we did in the spring. In winter, for December and January, we don't do treatments unless necessary.
For our weed control, we mainly treat two types of weeds, namely the grassy and broadleaf weeds. We do both post-emergent treatment (to remove existing weeds) and pre-emergent treatment (to prevent new weeds from taking root). We also do insect control specifically for lawns, where we treat grubs, fire ants, and chinch bugs.
Additionally, we provide disease control for lawns. Our experts can do a free evaluation on your lawn to treat diseases such as St. Augustine Decline, Brown Patch, and Take-All Patch. We will then come up with a lawn treatment plan to revitalize its health. Contact us if you are searching for professional lawn maintenance companies in Rockwall, TX.
Preventative measures to take for pest control
The most common way that they get inside the house is through open windows and other gaps that can access the inside of your home. So, if you see overhanging branches of trees very close to windows, get rid of them to minimize access to pests like spiders.
Obviously, hygiene and cleanliness are vital for preventing pest infestations. If you have food scraps and other trash lying around, you will undoubtedly attract rats, flies, and cockroaches. These pests, in turn, carry diseases that are dangerous to your pets and family.
How to choose professional pest control companies
The first thing you should look at or ask is how much experience the company has in the field of pest control. Also, what kind of pests do they deal with? What kind of services do they offer? Do they offer emergency pest control?
It is better to find a company nearby because they will know the type of pests in your area and they are close by in an emergency. Don't forget to check references and customer testimonials.
Types of pests we treat
We treat all kinds of pests from insects, arachnids to rodents. Bed bugs, termites, earwigs, cockroaches, fire ants, ticks, and fleas are some of the insects we treat.
We treat rodents like rats and mice. We also control flying insects like flies and mosquitoes. If you have pest infestations involving these pests, please contact us.
Are you looking for professional lawn maintenance companies in Rockwall, TX? You can trust Safe Earth Pest Control, with our safe, non-toxic chemicals and over 40 years of experience.