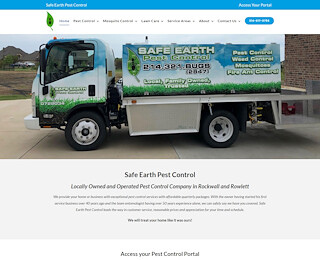 For affordable and effective termite control in Rockwall, call Safe Earth Pest Control at 214-321-BUGS. Their experts will get to the heart of your termite problem and eradicate them from your home. Whether you have just discovered the signs of termites or have noticed extensive damage from their presence, it's never too early or too late to call in experts who can exterminate the pests that are destroying your property.

Safe Earth Pest Control uses the safest methods of treatment available, so your children and pets are safe around treated areas. Feel free to call for a free home inspection or for eradication. Local clients depend on Safe Earth Pest Control because of their level of experience and their attention to detail, so you can be sure that when you call on them for termite control in your Rockwall home, your problem is going to be taken care of.

Perhaps you have never dealt with a termite infestation before, in which case, you may not know what to look for when you're examining your home or checking for damage. If you suspect termite activity, there are a few signs you can look for that will give you certainty that you are dealing with termites and not another pest problem:

- Depending on the time of the year, you may notice a pile of discarded wings outside of your home, close to windows, doors or other home access points. Termites that swarm from their nest to start a new colony in another location use their wings only one time, and then shed them since their need for them has passed. Examining the wings can provide you with conclusive evidence that you have termites, as the size of all of the wings will be the same, contrary to ant wings which are larger in front and smaller in the rear.

- If you have a termite problem, you'll notice mud tubes about the size of a pencil in areas close to where the ground meets your home or around other food sources. Since termites require a consistent temperature and humidity to thrive, they build mud tunnels that create the perfect environment for them. If you find mud tunnels, the problem has been going on for some time- call Safe Earth Pest Control for prompt termite control in Rockwall.

- You may find evidence of wood damage underneath or in back of surfaces such as your home's walls, flooring or other areas. Since termites chew through wood, in time, the grooves that have been eaten in the wood will weaken the structure of floorboards, walls and other areas.

It's not always easy to locate the source of damage or the damage itself. For guaranteed termite control in Rockwall, make the call to the experts from Safe Earth Pest Control at 214-321-BUGS and leave the heavy lifting to the pros who know what they're doing. A termite infestation is not something that should be ignored. Call today for an affordable and effective solution to your termite problem.
Termite Control Rockwall
Safe Earth Pest Control
214-321-2847
3042 Longhorn Lane Rockwall, TX 75087
View Larger Map