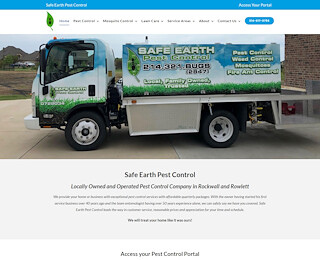 For residential termite control in Rowlett, consider calling the locals' choice for pest control. Safe Earth Pest Control leads the state in customer service and reasonable prices; in fact, their experts can rid you of your termite problem with the proper treatment that is both safe and effective.

If you suspect termite activity beneath your home or in your home's walls, don't waste a moment trying to self-evaluate or self-eradicate the problem. Termites are very difficult to get rid of and can cause a lot of damage in a little time. It's best to make a call to the professional exterminators from Safe Earth pest Control at 214-321-BUGS for prompt extermination of the pests.

Depending on the level of infestation, Safe Earth's experts can help you determine the most economical and effective treatment plan for the problem. Your initial visit will consist of a free home inspection which will be followed by an initial cleanout treatment. Thirty days later, the first installment of your residential pest control plan will be implemented, all to ensure that they get all of the pests that may still be lingering.

Rest easy- Safe Earth Pest Control spends more time and are more attentive to detail than most other termite control agencies in Rowlett. Consider the following residential pest control service options for your home:

Silver level pest control via quarterly treatments, includes:
- 5 general pest treatments
- 5 thorough inspections
- 5 quarterly perimeter sprays
- 5 quarterly eave sprays
- 1 fire ant treatment
- 20% off of a single mosquito treatment

Gold level pest control via bi-monthly treatments, includes:
- 7 general pest treatments
- 7 thorough inspections
- 7 perimeter sprays
- 7 eave sprays
- 2 fire ant treatments
- 50% off of single mosquito treatment

Platinum level pest control vis monthly treatments, includes
- 12 general pest treatments
- 12 thorough inspections
- 12 perimeter sprays
- 12 eave sprays
- 4 fire ant treatments
- One free mosquito treatment

Initial interior pest control service includes:
- Inspection for and removal of all spider webs that are seen
- Residual dusting of all openings to pumping voids, under sinks, etc.
- Interior chemical application with safe chemicals derived from the chrysanthemum plant
- Glue board insect monitoring in the garage and other possible locations

Initial exterior pest control service
- Residual dusting of outdoor weep holes
- Removal of all reachable spider webs
- Treatment of the exterior of the home with a residual and/or micro encapsulated spray and/or granules
- Driveway and sidewalk crack spraying to prevent hiding places for insects
- Rodent trap servicing

Prevent your most expensive investment from termites and other pests with a treatment plan from Safe Earth Pest Control or call today if you have found recent termite activity going on in or near your home. Safe Earth provides affordable termite control throughout Rowlett and beyond.

Just because you don't see any evidence of termites, that doesn't mean they are not there or that your home is not currently infested with them. The only way to be certain is to call a professional for a home inspection. Call Safe Earth Pest Control at 214-321-BUGS for a free inspection today.
Termite Control Rowlett
Safe Earth Pest Control
214-321-2847
3042 Longhorn Lane Rockwall, TX 75087
View Larger Map