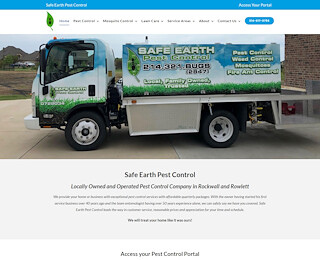 You want your home to look as good on the outside as it does on the inside. Your lawn is one of the most important parts of your property because it is the first thing that people see when they arrive at your home. Your lawn also provides a place to relax and enjoy the outdoors and for your children to play. Regular weed control is essential to the appearance of your yard. Weeds are the most obvious problem that happens to your lawn. When weeds invade the grass it can make your lawn look terrible and cause bare patches.
How Can I Control Weeds In My Yard?
The best type of weed control to use depends on the variety of weeds that you have in your yard.  It can be difficult to control weeds without professional assistance. If you have children and pets you will want to make sure that you use an earth-friendly product that is not harmful but that still removes weeds. You don't need to spend time on your hands and knees pulling weeds out of the ground. Instead, count on the services of a professional landscape company for weed control.
What Weeds Grow In My Lawn?
There are two main categories of weeds that are likely to grow in your lawn. Broadleaf weeds have visible leaves and may grow tall. Some of the common varieties of broadleaf weeds include dandelions, thistle and clover. Grasses are the other type of weeds that might commonly grow in your yard. Crabgrass is the type of grass that is most common in lawns. Crabgrass grows in large clumps. Weeds tend to grow and spread rapidly so you must take stepf for weed control to keep them from taking over your yard.
 How Often Do I Need to Control Weeds?
Weeds are dormant for only a couple months of the year so you will need to control weeds in the spring, summer and fall. There are two ways of weed control and you should employ both methods. Pre-emergent control is done to keep the roots from growing and is performed before the plant emerges from the ground. Post-emergent control is what you need to do when the plants are already noticeable in your yard. Both pre and post application of weed products should be done in the spring and fall. In the summer provide spot removal of weeds if they occur.
Are Weed Killing Products Dangerous?
Some weed killing products have been found to be hazardous to humans. At Safe Earth Pest Control we use organically-derived products that are safe for people, pets and the environment. We have found the perfect products and methods to use that will safely and efficiently handle many types of weeds that may be prevalent in your yard. We offer several different program options to ensure that we continue to treat your yard for weeds and provide fertilizer to keep it looking thick, lush and beautiful. Contact us today to schedule yard services for your home or commercial property.
Related Posts
Your yard is the first thing people see when they approach your home. You want your home to look its best and that means you need to care for the grass. If you don't perform the proper maintenance your lawn will start to become filled with weeds. Weed control in Rockwell is one of the most important steps you can take to ensure a beautiful lawn.
What Are The Most Common Weeds?
There are many types of weeds but the most common weeds that occur in lawns are broadleaf and grass varieties. Broadleaf weeds are those that have leaves such as dandelions, thistle and clover. Crabgrass is the most common of the grass weeds. Weeds can become extremely pervasive. Once they start growing in your lawn they can quickly expand and start taking over more and more of your grass. By the time you see a weed above the surface of the ground the plant's roots have already begun to grow and expand. Weed control in Rockwell removes all types of weeds from your yard.
How Do I Kill Weeds in Grass?
It is important to kill weeds without killing your grass. Weeds can take over main areas of your lawn if you don't get rid of them as soon as possible. While you can purchase weed killers for home use it is best to call in a professional. Lawn care professionals know how to properly kill weeds and improve the look of your lawn. Good lawn care includes both fertilizer and weed control in Rockwell. These should be provided as part of an overall lawn care program that feeds and nurtures your lawn regularly all year.
When Should I Get Rid of Weeds?
Weeds need to be eradicated both before and after they emerge from the ground. Pre-emergent weed killing gets rid of the roots of the plant before the plant emerges from the ground. Post-emergent weed care is done once the plants have started to grow above ground. Different types of products are used for different types of weed control in Rockwell. Both types are necessary in order to stop weeds from growing and prevent future growth. When using fertilizer for the lawn you should typically apply it after applying weed control products.
What is the Best Lawn Care Treatment Plan?
Year round lawn care treatment plans offer the best protection against weeds and will provide you with a lush and beautiful yard. In the spring weed control needs to include both pre-emergent and emergent treatment options. This gives your lawn the best protection against weeds for the season. In the summer only spot weed control is generally required since other treatments could burn the grass in the hot sun. In the fall, weed control again includes both pre and post emergent treatments. The winter months of December and January don't usually require any yard care since the grass is in a dormant stage. throughout the seasons lawn fertilizer will feed your grass and give it a beautiful, full appearance.
Everyone wants to enjoy a lush, beautiful lawn. Unfortunately, weeds can keep you from having the attractive yard that you want. Weeds can grow out of control and take over your lawn. If you want to keep your property looking attractive you need to take steps for weed control in Rowlett. A lawn care program will remove and prevent weeds and create a better looking more luxurious lawn.
What is the Best Way to Control Weeds in My Yard?
It is best to control weeds through both pre-emergent and post-emergent methods. A professional lawn care company understands weed control in Rowlett and will evaluate your specific weed removal and prevention needs. Pre-emergent weed control treats the roots of the weeds to keep them from growing. Post-emergent weed control is necessary for weeds that are already growing in your yard. Both methods can be utilized to keep your lawn looking its best. Regular weed treatment and preventative methods will help improve the look of your yard and keep weeds under control.
What Types of Weeds Grow in My Lawn?
The most common types of weeds that grow in your lawn fall into two main categories including grassy weeds and broadleaf weeds. The most common of the grassy weeds is probably crab grass. Crab grass is a pervasive weed that grows in clumps that are low to the ground. Familiar broadleaf weeds include such plants as thistle, clover and dandelion. When left untreated, these weeds will spread and start to take over your grass. Proper treatment by a specialist in weed control in Rowlett will help rid your lawn of these weeds for good.
Will Fertilizer Help with Weed Control in Rowlett?
Fertilizer is a substance that helps nourish your grass to improve strength and growth. Fertilizer alone won't control weeds but it does help with the process. The first step in weed control in Rowlett is the application of products that will kill weeds and prevent their growth. Once weed control products have been applied you can improve the condition of your lawn with fertilizer. This will make your lawn thick and lush and encourage growth. You can't rely on fertilizer to eliminate weeds in your yard.
Can I Control Weeds on My Own?
There are many products on the market that are used for weed control. However, these products are not always safe or easy to use. It is best to call a professional lawn care service. The lawn care professionals will work with you to develop a weed control plan for your yard. Weed control should be done several times a year in the spring, summer and fall. Regular weed control will prevent weed growth and remove weeds that are already growing. The goal of any good lawn care program is to improve grass growth and eliminate weeds. The best programs are those that provide professional well-rounded lawn care that promotes a healthy yard. Contact our experts to learn more about our affordable weed control and lawn care options.
Safe Earth Pest Control
214-321-2847
3042 Longhorn Lane Rockwall, TX 75087
View Larger Map